First repercussions of China's waste shipment ban
After China first announced its ban on the import of waste from other countries, effective from the new year, the global recycling sector was in turmoil. Black scenarios were drawn and problems were prophesied for the entire recycling industry. The media are already reporting the first consequences of Beijing's decision
As reported The Guardian, UK recycling experts recognised that the problem in Britain with plastic waste had already begun before the Chinese ban took effect.
Britain: trouble or opportunity?
Speaking to reporters, Simon Ellin, president of the Recycling Association, the UK's recyclers' organisation, pointed out that many companies had already stopped shipping waste to China last autumn for fear that it would not arrive before the end of the year.
As a result, the association's members are already seeing increased amounts of unmanaged plastic waste sitting in warehouses and landfills.
So far, from 2012 onwards, the UK has sent nearly two-thirds of the plastic waste exported abroad to China.
For 20 years we have relied on China to recycle our plastic waste and now people don't know what will happen. Some of our members are waiting for things to develop, but they are concerned. - Ellin says.
Among the voices full of concern, there are also those who see in China's decision an opportunity for the UK to create its own recycling infrastructure.
The documents referred to in the regulation are:
The most important change in the transport of waste that has been introduced by the head of the environment ministry is the way in which means of transport are marked. According to the guidelines, the vehicle on which a load of waste is to be transported should have a marking in the form of a white board with "WASTE" printed in black.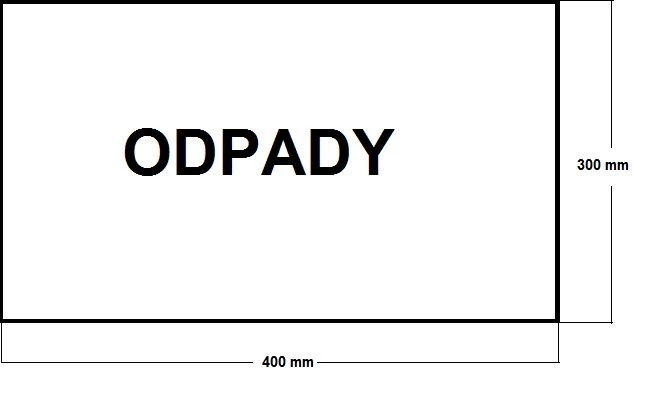 The requirements for the inscription itself are as follows: a minimum height of 100 mm and a minimum line width of 15 mm.
However, deviations from the specified sizes are permitted, but only if there is insufficient space on the means of transport to accommodate the board. In this case:
the dimensions of the board can be up to 300 mm wide and 120 mm high
dimensions of the inscription - height to a minimum of 80 mm and line width to a minimum of 12 mm
The above signage should be placed in a visible location and be legible, durable and weatherproof.
In the case of cross-border waste shipments, the dimensions of the board should be 400 x 300 mm, as in the case of domestic shipments, but the letter "A" (German: der Abfall - waste) should be at least 200 mm high and the line width should be at least 20 mm.
Again, this board should be placed in a prominent position, be legible and be weatherproof.
Elaborated based on Journal of Laws